I love trying to improve my development environment. Efficiency is important to me: I spend hours and hours a day programming, and even a 1% or 2% productivity boost would provide a massive time savings over the course of a year. Or, as xkcd so pithily put it: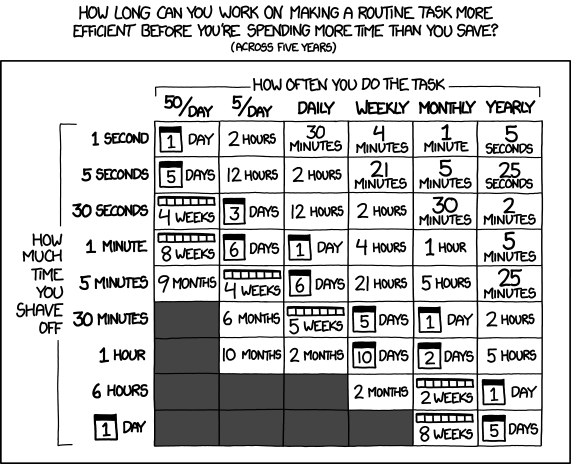 Of course, I've probably obliterated any potential savings by spending so much time experimenting, but now that I've done it you don't have to! Listed here is everything important to me to get my development environment zipping along. Hopefully you'll be able to find something useful here too that makes your programming experiences a little bit faster.
Basics
Mac Apps
Sublime Text Packages
If you love Sublime Text 3, you'll want the best packages for it too. Here's what I recommend:
Useful Development Tools
I'm sure there's a lot that I missed and some things I don't even know about. If I didn't include your favorite app, Sublime Text plugin, or Rails development tool let me know @Veraticus – there's nothing I love more than taking a new app for a spin and even adopting it if it turns out to be amazing!